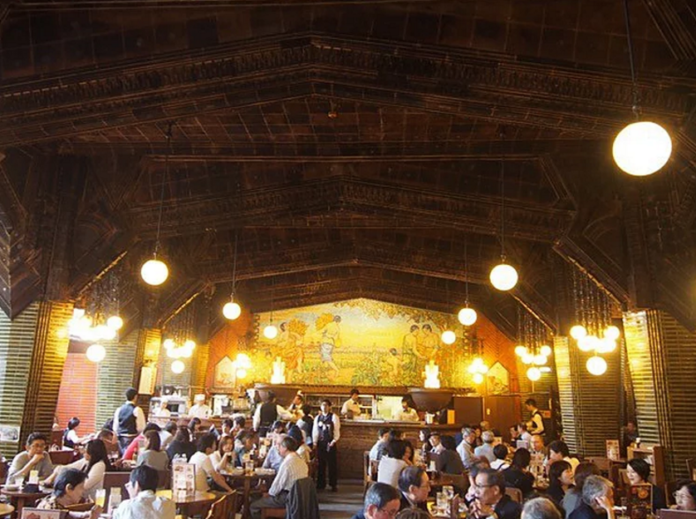 The 'Café Lion' was originally opened in 1911 on the corner of Ginza 4 chome, it was said to be named after the famous 'Lyon' restaurant of Piccadilly Circus, London at the time.
In 1934 the Café moved the short distance to its present location at 5 chome, was renamed the 'Ginza Beer Hall', and rapidly became a local favorite.
During WW2 the majority of Beer Halls in Japan were either destroyed by bombings or closed down, but somehow the Ginza Beer Hall survived relatively intact.
After the war the occupying army needed locations for their troops to relax in and  the Ginza Beer Hall was swiftly reopened to provide drinks and refreshments.
The outside of the building was repaired, while the inside was renovated including the original large glass mosaic on the rear wall, which was one of the first examples of this art by Japanese craftsman.
This building is unique in being one of the rare examples from this area to survive the 20th Century ravages of Earthquake, Fire, War and Property development.
It's seen as an Architectural Treasure of Japan, but don't forget it's also a very fine place for a refreshing German style beer while escaping the crowds of shoppers in Ginza.