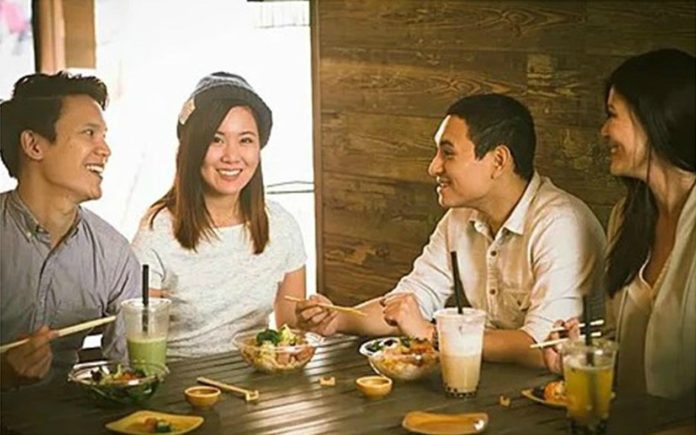 Cropsticks: A pair of disposable chopsticks that breaks apart into chopsticks and a rest
So you're eating a Chinese carry out.  You leave the chopsticks on top of the food to go to the kitchen, returning to find the chopsticks have rolled off the food and made a stain on the table.  Ever had such an experience?  Well, it's happened to me countless times.  That's why when I heard about Cropsticks, I was excited.
Cropsticks are chopsticks with a built-in rest that can be snapped off easily.  Mylen Fe Yamamoto, co-founder of Cropsticks, came up with this idea during her flight to Asia in April 2014.  She was eating the in-flight meal with chopsticks, but they kept rolling off the tray.  That's when she thought, what if the chopsticks came with the rest?  Once she returned home from her trip, she started to put her idea into an actual product in July 2014.  It took her close to a year to finally create a product that worked.
Yamamoto chose Silicon Beach as the location of Cropsticks, because of the support system for the startups, good access to LAX for easy travel, and abundant number of influencers and access to entertainment business for an effective marketing.
In creating Cropsticks, Yamamoto focused on using a sustainable material.  That is why she chose bamboo instead of wood, which 45% of the disposable chopsticks used around the world are made of.  Bamboo grows at a faster rate than trees do even after they're cut down, and they're known for their strength and durability.
Yamamoto also succeeded in keeping the price affordable.  A lot of the disposable chopsticks used in hotels and restaurants are made from pine wood and cost a few dozen cents per pair, but Cropsticks price will be distributed at a lower cost than that.
Cropsticks team consist of four co-founders, who work on this project along with their full-time job.  Mylen Fe Yamamoto runs a YouTube celebrity management company called CliqueNow, based in Los Angeles.  Yamamoto is also a Clinical professor/Assistant Director of Entrepreneurship at Loyola Marymount University and teaches the students who dream of becoming an entrepreneur.
Jay Chang is a venture consultant at University of Southern California, working with the student startups.  His family manufactures bamboo products, and he grew up travelling to Asia visiting the bamboo manufacturing factories and learned about the business.  He has over 15 years of experience in bamboo product manufacturing.
Ron Tansingco works as a media executive and creative producer after graduating from University of Southern California.  He is actively involved in the new business development at Cropsticks.
Shannon Takeba is an Associate Planner for a luxury hotel retail chain, where she is in charge of product strategy.  At Cropsticks, she is in charge of finance.