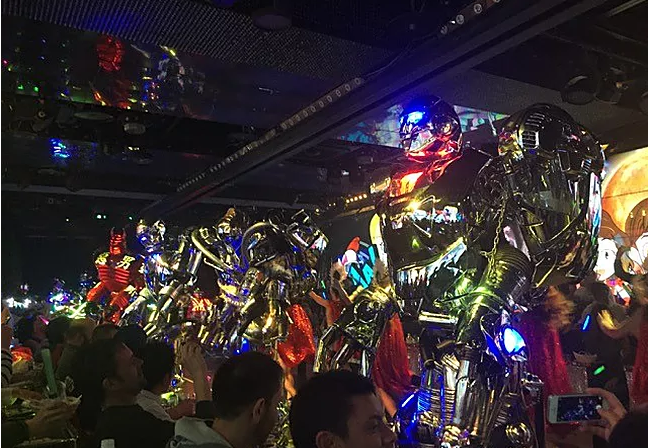 This venue sounds like an eatery, but don't be fooled, come fully prepared to see the most insane, neon loaded, robotic cabaret show that Japan has to offer.
Built at a cost of ¥100 million this venue has swiftly become a must see for visiting tourists and celebrities alike (both foreign and Japanese). You'll need to pre-book, and come to the venue 30-45 mins before your show starts to pick up your tickets. You are then ushered down three floors of psychedelic corridors to the Robot Restaurant. Bento lunch boxes can be pre-ordered (hence the restaurant part of the name), and cans of beer are sold at a reasonable price. Settle down and wait for the show to start.
The show is normally split into 3 or 4 parts, and as they progress you will be confronted by Japanese girls fighting off a collection of aliens, monsters and creatures of the deep, before finally a selection of dancing robots join the party. The show is interspersed with singing, dancing, marching parades and Japanese taiko drumming, and including breaks normally takes up about 90 mins. Just make sure that you have your camera fully charged!! The format of the shows regularly changes so even for return visitors there is normally something new to be surprised by!!
 
For booking details check out their website. And don't forget that if you book online you will get a ¥500 discount.
Robot Restaurant
http://www.shinjuku-robot.com/pc/?lng=en