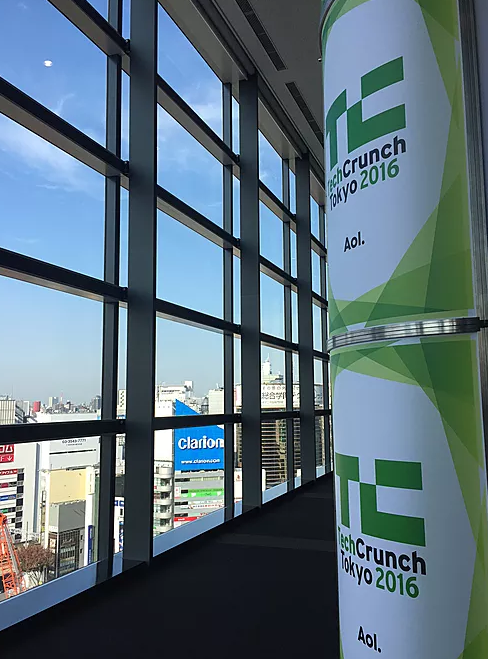 On Nov. 17 and 18, sixth annual Tech Crunch Tokyo took place at Shibuya Hikarie.  This 2-day event was held in two areas, Hall A and Hall B.  Hall A events included the keynote speech sessions and Tech Crunch pitch competition.  Some of the prominent startup entrepreneurs appeared as the keynote speakers, such as Tatsuo Nomura (Game Director of Pokemon GO), who talked about the creation of Pokemon GO, Susumu Fujita (CEO, CyberAgent, Inc.), Shintaro Yamada (CEO, Mercari, Inc.) and Alexandre Winter (CEO, Placemeter, Inc).  Hall B, or "TC Lounge", was an exhibit space to highlight the up and coming companies in the startup scene.  Exhibit booths displayed the pitch competition finalists and other startups, and a small stage was set up in the corner of the room to talk about each exhibit booth.  Keynote speakers from Hall A events also showed up on this stage for a casual Q&A session.
The pitch competition is one of the most popular event during this conference.  Out of the 114 startups that applied for the competition this year, 20 proceeded to the first round on Nov. 17, and 6 moved on to the final round on Nov. 18.  This year's winner was Kids Public, an online medical consultation service for children's health, and they were awarded with the prize of JPY1,000,000 (around US$9,000).
The attendees of this pitch competition are usually fresh entrepreneurs, who either just launched or is getting ready to launch a product.  A total of 82 such entrepreneurs attended the past competition, and each year some of them return to Tech Crunch Tokyo as the speaker at the Product Update session to give an update on their business progress.  This year, 10 entrepreneurs returned as the speaker, one of whom I interviewed the other day, Takahiro Miyasaka of BONX.
VR technology was one of the highlight of this year's Tech Crunch, and 7 companies attended to exhibit their VR products.  VR is the latest buzz in the technology world, but it's something that you have to experience to truly understand its wonder.  I tried their 360-degree VR for the first time, and the realistic image was mind blowing.  I also found that VR device was pretty comfortable to wear, which was a little surprise.  Each company showcased their creative VR technology in their unique and fully immersive products, and they were attracting a lot of attention from the attendees.
The exhibit area was full of energy with the entrepreneurs presenting their products.  Even though they were fresh entrepreneurs, some of them are already drawing a lot of attention from the media proving that they would one day become the driving force in the startup scene.
Here are some of the startups I met at the exhibit area.
BUTTERFLYBOARD is a lightweight, portable whiteboard.  One set comes with 4 sheets of whiteboards.  The magnets on these sheets allow you to customize the working space.  You can attach them in a notebook style and flip the page, and you can also connect 2 sheets side by side or connect all 4 sheets in a flat panel shape to create a larger working space.  Even in this digital, paperless age, sometimes you still need to write on a piece of paper at a meeting with a customer or while brainstorming by yourself.  BUTTERFLYBOARD would be just perfect to use as a memo pad.  A lot of media source has already written about BUTTERFLYBOARD, and they are being sold in Amazon Japan (out of stock as of November 30, 2016) and a Japanese craft store Tokyu Hands.  BUTTERFLYBOARD is currently raising fund at an US crowdfunding site Indiegogo.
○One Tap Buy
One Tap Buy is an App where you can start the stock investment with only JPY10,000 (around US$90) in an easy and simple 3-step process.  If you're afraid of making an investment or unfamiliar with stock investment, don't worry.  The App prepared a cartoon that explains the basics of stock investment step by step.
Dendama is an evolved version of a traditional Japanese toy called kendama.  Traditional kendama consists of a handle and a ball attached to it with a piece of string.   The handle has three cups and one spike, and you swing the ball in the air to try to land it in one of the cups or on the spike.  Dendama is designed just like the traditional kendama, except it's equipped with a sensor.  This sensor detects where the ball landed and evaluate your skill level.  Not only that, Dendama players can play games or compete with other players
anywhere in the world through Dendama's App.
Creww is the one of the largest open innovation platform in Japan.  Startups and large companies can connect through Creww to collaborate on an open innovation project in a quick turnaround and at low cost.  Over 2,400 startups are registered at Creww, and currently 70 companies are working on a collaborative project.
Now that Google Street View is showing photos of business interior, LIFE STYLE will create a virtual tour photo image of any business interior (hotels, stores, hotels, schools, etc.) and upload it on Google Street View.  LIFE STYLE also creates VR content, and they utilize their network of experts around the world to accommodate the growing needs for the VR business.
Car sharing service is popular in Japan, where the cars are parked at a designated parking station and the members go there to pick up a car.  Share-Nori is an innovative car sharing service, where a car owner can rent his/her car to a registered member.  A renter can search for an available car in the neighborhood and communicate with the car owner to decide on the pickup location.  Share-Nori's cost is more affordable than a rental car or the traditional car sharing service.  They are currently in service in Tokyo, Kanagawa, Chiba and Saitama prefecture, but they plan to expand the service across Japan in the future.
AdSpacee is a freshly started service that offers an offline ads marketplace.  Through their website, an advertiser can search for an available space to post an ad, or a business owner can offer a space inside their restaurant, rooftop of a building, public transportation facility, etc. to an advertiser.  Registration at AdSpacee website is free.
Popcorn is an App created by Coubic Inc., that allows the users to make a last-minute reservation at hair salons, nail salons and massage salons.  Making the reservation is super easy.  Just type in the date, time, type of salon and city, and you can even pay beforehand.  There are other beauty salon booking Apps, but unlike other Apps Popcorn specializes in a last-minute reservation.
The startups at Tech Crunch Tokyo were in wide range of businesses from stock investment to fashion business, but we couldn't cover them all here.  We will interview them separately and post it here in the future.