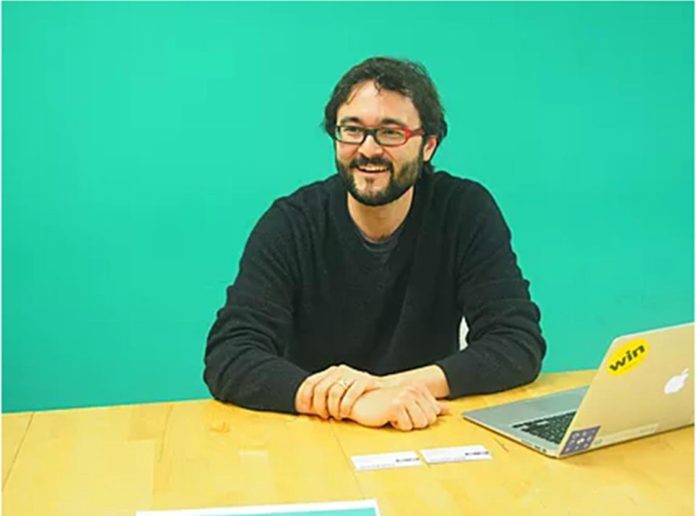 If you're in the startup business and didn't know Gengo, you have to be living under a stone.  News media often talks about them, and weekly Toyo Keizai magazine (a Japanese business magazine) chose Gengo as one of the "100 extraordinary startups".
Matthew Romaine, Co-Founder/CEO of Gengo, appears as keynote speaker in numerous events in Japan and overseas.  We asked Romaine about Gengo.
-Please tell us about Gengo's service.
We provide people-powered translation service through crowdsourcing.  More than 20,000 people from all over the world have passed our unique test and are working as a translator at Gengo.  We offer a translation service in 37 languages and 71 different dialects.  Initially, a translator applicant only had to take a written translation test.  But as the number of translators grew, we now set the application test at 2 stages.  The 1st stage consists of a multiple-choice question test.  You must pass 4 out of 5 of these questions to move onto the 2nd stage, which is the written translation test.  Only if you pass both stages can you register at Gengo as a translator.  Also, when a translator works on a very first assignment, their work is thoroughly checked and scored.  If the score is not good enough, then the translator goes through a re-check and a random check process.  That is how we maintain the quality of our translators.  It's pretty difficult to pass this test, with only 4% pass rate.  I'm not even sure if I'd pass.
-Please tell us about your background.
I was born in U.S. and moved to Japan at elementary school.  I went to an international school in Japan through elementary and Middle school, then moved to US at high school.  Then I went to Brown University and majored in computer science and music and then went to a graduate school at Stanford University.  I was interested in fusing music with technology, so after doing some research on how to achieve this goal, I decided to join SONY in Japan.  At SONY, I was part of the audio R&D such as compressing technology, and then moved to the products division.  When Howard Stringer was the Chairman of the Board of Directors at SONY, the company headquarters was looking for a bilingual person.  So I worked there for about 2 years managing the company portfolio.  Around the same time, some interesting web business started to emerge.  Google was listed on the Tokyo Stock Exchange, and Facebook and Twitter launched their business.  That got me interested in the web business, so I left SONY and started a couple of web services.
-When and why did you decide to start Gengo?
At SONY, so many people asked me to translate things even though I was just an engineer, and I used to wonder why there was such a high demand for translation.  One day I was remembering about this experience and realized that the language barrier problem still existed.  I tried to come up with an online solution for the language barrier and started My Gengo (which later becameGengo) in 2008 in Japan.  It's been 8 years since then.  Initially, we received a translation request from the customers through our website.  Then I developed an API (Application Program Interface) to make the process easier.  API is basically a technology that connects a system with another system.  It's also a platform that allows us to build a people-powered translating function anywhere on the system.  By doing this, we shifted our business from B2C to B2B.
-What sets your service apart from your competitors?
You can find a lot of translation service companies, but what makes us unique is our API technology as well as crowdsourcing capability to offer flexible translation service to adapt to speed, quality and various volume (a word one day or 10,000 words another day).  Not only that, I believe we're the only one who offers the service in 37 languages 24/7 business hours.
-Please tell us about your future business idea and how you plan to expand to overseas.
I came up with the idea of Gengo based on my experience of living in Japan.  Initially, we offered translation in English and Japanese only, but now we offer our service in 37 languages.  Translation request for these 37 languages comes from English language based customers, whereas request from Japanese language based customers is in 9 languages.  In the beginning our primary customers were Japanese people living in Japan.  There are 2 ways to expand a business globally.  One way is to go outward, where you create a system that can be copied and then implement it simultaneously in multiple countries.  Another way is being pulled outward, which was our case.  My first language is English, so everyone in my company communicates in English.  Also, our marketing and media communication was done mainly in English in the beginning.  So the overseas medias picked up our story, that naturally lead to the growth of our overseas customers.  We now have an office in San Mateo, California to respond to the growing translations request from overseas customers.  In addition to the increasing U.S. customers, we are starting to see more European customers.  So we're currently working to open an office in Europe.
-What types of investors or companies would you like to partner up in the future?
Our translation services currently focus on 3 categories: e-commerce, travel and casual media.  We would like to expand this to other field in the future, for instance legal, finance and technical.  Area wise, European countries are our next target, but we are further looking into expanding our services to Southeast Asia and China.
As far as investors, we connected with various VC, CVC and interesting investors in the past.  For instance, Atomico in UK is an investment firm founded by the founders of Skype.  A lot of their employees come from the product development background, so we have a lot in common.  When they later made me an offer, I was honored and delighted.  I also learned a lot from leading companies like Intel and Recruit (Japanese HR company).  To answer your question about the investment, we don't plan on receiving any fund for now.
-Please tell us about your daily schedule.
It depends each day.  By the way, I just bought this cool thing called mornin'.  It's a device made by a Japanese startup Robit.  You attach mornin' to a curtain rail and set a time, and it automatically opens the curtain to wake you up.  With the regular alarm, I just hit snooze and fall asleep again, but mornin' definitely wakes me up with the bright sunshine.
6:30-7:00am    Run in Yoyogi park (depends on weather and season)
9:00-9:30am    Arrive at work, have meetings
Afternoon    Meetings with overseas office and investors
Evening    Dinner with investors, customers, and startup entrepreneurs from other business
I'd love to go out with my wife for dinners and events at least once a week.
-What is your favorite App?
My favorite is Nuzzel, which is similar to SmartNews.  It collects the news that your friends shared on Facebook and Twitter so you can read them at a glance.  You can also custom filter the newsfeed to your interested topic.  I also use a Microsoft App called Office Lens.  It takes a photo of whiteboards or documents, then crops, sharpens and straightens the photo, so it looks like a scanned image.  Even if you take a photo from a peripheral angle, the App automatically straightens it, so you can instantly share it.
-Where is your favorite place to hang out?
A bar called BAR MARTHA in Ebisu, Tokyo.  They have a huge collection of LP records that they play through a special speaker.  It's a place for a music fan to enjoy music, so they don't accept loud customers.  I also love the ramen restaurant Afri.  They recently opened one in Portland, Oregon, so I went there during one of my business trip.  Another favorite place is Pizza Slice, a NY style pizza restaurant near the office.  I go there at least once a month.
-Who is your influence?
One is Shinya Akamine of Core Ventures.  He is a Japanese but grew up in US since he was a kid.  His career is impressive.  He has multiple Ph.D. from Stanford University, started about 4 businesses in the past and currently runs his own investment company.  He has an experience of both operating and investing and he also loves Japan.  So ever since I met him 4 or 5 years ago at an event, we became very close friends.  And he's a good customer of Gengo.
Another one is Darshaun Nadeau, Co-Founder and CEO of HubNami.  He moved to Japan while he was a college student, started a web business and have sold it to GMO Internet (a Japanese internet service company).  As I started web business in Japan myself, I find a lot in common with Nadeau, and he always gives me good advice.
I interviewed Romaine in Japanese.  He answered our questions using terms that were easy to understand.  He was friendly and yet very genuine, which lead me to realize that he truly cares about the importance of communication.  Not only he speaks the language of US and Japan, his mind and heart cherishes the culture of the both countries, which must have lead him to createGengo and to grow the business.  I left the interview thinking that Gengo would one day become the leading worldwide translation service company.