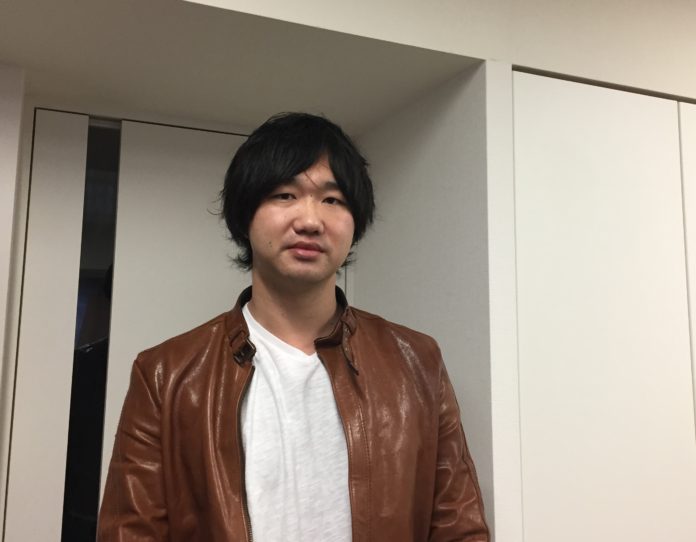 When it comes to an online language learning, one of the common way is to take a class through video chat. But Lang-8 is different.  It's a web service that is more like an online community, where the members are native speakers who can answer your questions about how to write correctly in their language.
We met with Youyou Ki, CEO of Lang-8, Inc. that currently runs Lang-8 and HiNative (a Q&A forum where people can ask native speakers about the language), to ask about his business.
-Please tell us about the type of service offered at Lang-8.

We provide a language exchange platform service called HiNative. In HiNative, we don't hire language expert as a teacher.  Instead, users at HiNative teach the language to each other.  For instance, a Japanese person posts a question about English, and an English-speaking person answers that question.  If an English-speaking person has a question about Japanese, a Japanese person can answer that question.  Our service currently covers more than 120 languages, and our goal is to succeed not only in Japan but across the world.  Our service started two years ago, and since then the number of the users grew from 60,000 to 380,000, where 70% of them are non-Japanese.  So we see a lot of language exchanges that doesn't involve Japanese, like Chinese to English.
–Please tell us about your background and how you started this business.
I was born in China and moved to Japan at the age of 4, and that's where I've lived since then. Then at college, I took a year off to go to a school in Shanghai to brush up my Chinese.  During my stay in Shanghai, I started doing language exchange, where my Chinese friends teach me Chinese and I teach them Japanese.  That experience gave me the idea to start my current business.  After graduating from college, I started my own web service business called "Langate", which is the predecessor of Lang-8.  Two years ago, I started the app business HiNative and Lang-8.
-What sets your business apart from other competitors?
When it comes to learning a language online, many people might think of talking to a native speaker via Skype to practice the conversation. Lang-8 is very different.  First of all, you can learn more than 120 languages, and it's free.  When you're learning a certain language, it's hard to find someone who can tell you if you're speaking or writing as fluently as a native speaker, especially if it's an unfamiliar language.  Sometimes you just want to ask a simple question about a short sentence you wrote, but you don't know anyone that can answer you.  That's where Lang-8 can help you.  Because it's a community of native speakers, everyone can help each other to answer the language questions.
-How do you plan to expand your business abroad? Do you have other future plans?
From the beginning, I didn't plan on limiting the service just on certain languages like Japanese, English, Spanish, etc. Instead, I wanted to utilize the power of the internet to allow anyone in the world to use our service.  We raised some fund three months ago, and we've learned how to improve and expand our service.  So we're ready to hire more people to increase the number of users to 10,000,000.  It's going to be a challenge to have members evenly from all parts of the world so they will be a diverse representation of the global community, but our goal is to increase the number of users to 1 million.  We're also focusing on a service that we just started within HiNative that specializes in business use.
-Did you receive any investment in the past? What kind of investors or corporates are you looking for to work with?
We received an investment three months ago from East Ventures, Kyoto University Innovation Capital and angel investors. Juston Waldron, the co-founder of Zynga who later left the company to become an angel investor, became our very first angel investor in Japan.  We are looking forward to use this connection to raise fund in US in the future.
-Please tell us about your daily schedule.
It depends each day, but I've noticed I can't work long hours like I used to in my 20's. I get up at different times every morning.  Sometimes it's 10am, sometimes it's 9am if I have a meeting.  Every day it's mostly work, because I'm involved in everything including program development.  My house is only 3-minute walk from the office, so my every day goes around between work and home, spending time sleeping, working or going to a gym.
-Do you have a favorite app?
I often use UberEats, the food delivery service started by Uber. A normal food delivery could have issues like long delivery time that could take more than an hour, or sometimes they set up a minimum order price.  But UberEats will allow you to order from 500 yen (around 5 dollars) to deliver in about 10 to 15 minutes.  Since I started using UberEats, I stopped using other food delivery apps.  UberEats started their delivery service in Japan since October of 2016 in metropolitan Tokyo areas.  They've been expanding their service areas, and I think their service area will continue to spread to a wider region.
-Where is your favorite hangout place?
A 24-hour open gym about 3-minute walk from my house and office. I try to minimize my time spent on going to places, so everything I need is close by, and all the shopping and food delivery are done online.  I hardly leave the neighborhood of my home and office.
-Who is your influence?
CEO of Drecom, a Japanese company creating mobile apps. He came to my college one time to give a lecture.  It got me interested in IT business and made me realize I can start my own business.  I think his lecture influenced me to become an entrepreneur.
・・・・・・・・・・・・・・・・・・・・・・・・・・・・・・・・・・・・・・・・・・・・・・・・・・
Members of Lang-8 use diverse languages, from English, French, Spanish, Japanese, Chinese, Korean, Swedish, to somewhat uncommonly known languages like Zulu, a language used by the Zulu people in South Africa, or Marathi, a language used in India. Members ask and answer all types of questions in various field of interest, and some could be 10 pages long and others just a word.  As a Japanese myself, it was interesting to find a surprising number of questions about Japanese.  Some of those questions were about words that are used on a daily basis that anyone without a teaching skill could answer it.  Many Japanese people are shy when it comes to speaking English, which could make it a challenge for them to communicate with the foreign tourists visiting Japan.  But as Tokyo will be hosting the Olympics in 2020, it would be a great opportunity for the Japanese people to learn English and be able to become friends with the foreign tourists from all over the world.